South Carolina Educational Session & Anniversary Celebration by USGBC South Carolina
Location: Darla Moore School of Business 1014 Greene Street Columbia, SC 29208
Date: April 27, 2017
SOUTH CAROLINA EDUCATIONAL EVENT AND ANNUAL CELEBRATION
LEED Platinum Darla Moore School of Business, Columbia, SC
Thursday April 27, 2017
1 PM - 8 PM

COME LEARN WHERE WE HAVE BEEN - WHERE WE ARE - AND WHERE WE ARE HEADED!

Please join us at the Annual Reunion Event with US Green Building Council South Carolina. Choose from 3.5 hours of educational courses with a LEED Platinum Tour or the social event of the year, where we welcome Kimberly Lewis, USGBC's Senior Vice President - Community Advancement, to the stage to share USGBC's mission and strategic vision for the future of green building!
Register for the whole day and SAVE $10.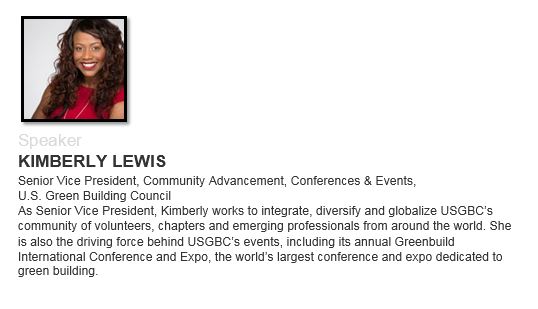 DARLA MOORE SCHOOL OF BUSINESS: LEED PLATINUM
The Viñoly team said some the biggest green design challenges were the building's cantilevered and glass design to maximize natural light and minimize heat gain, the outdoor terrace and roof garden spaces and balancing individual user control with overall building cooling efficiencies in office, classroom and conference spaces. The building was designed with energy and future use in mind. The green roofs capture storm water for reuse and irrigation, and the building was designed for the potential addition of photovoltaic panels that convert sunlight to energy. Specially designed walls and raised floors allow the school to adapt and reconfigure space to meet future use and needs. Read More

AGENDA
1:00 PM Welcome / Registration
1:30 PM -2:30 PM WELL Building Standards
2:45 PM – 3:45 PM LEED v4 And the Changes
4:00 PM – 5:30 PM -Darla Moore Expert Panel & LEED Building Tour
5:30 PM Celebration Checkin & Networking
6:30 PM – Dinner
7:00 PM - Keynote Speaker
8:00 -Dessert & Coffee