PLUGinSC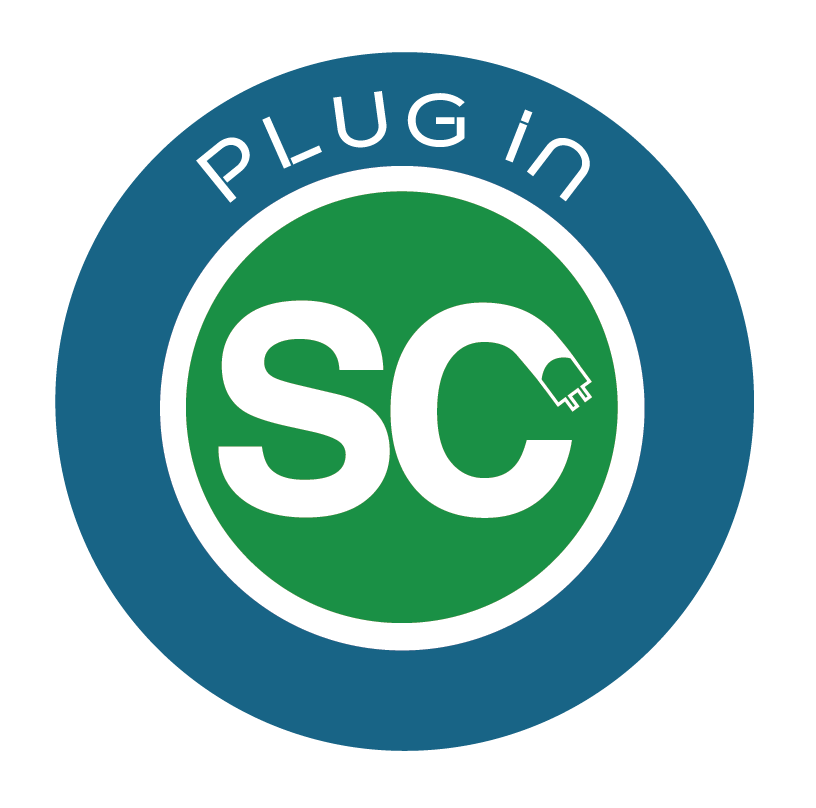 ---
PLUGinSC is the only marketing campaign in South Carolina focused on the advancement of EVs. It is designed to encourage a unified approach to EV signage based on nationally recognized templates. PLUGinSC recommends standardized EV charging station signage, pavement markings, and directional signage. Use of a unified approach should assist EV drivers and increase EV adoption and visibility in South Carolina. In addition, PLUGinSC serves both as a source for EV information and as an EV information clearinghouse for best practices in implementation.
PLUGinSC Incentive Program
The Energy Office has launched the PLUGinSC Incentive Program to support the adoption of standardized electric vehicle (EV) charging station signage and branding.
The PLUGinSC Incentive Program enables qualifying participants to obtain standardized EV signage so that charging stations are easily identifiable. Eligible applicants will receive two (2) electric vehicle charging signs for each EV charging station identified in their application. Funding for this project comes from the US Department of Energy through the Clean Cities Program. Funding will be provided to the SC Department of Corrections to manufacture the signs.
What is the South Carolina Electric Vehicle Market Study?
Recognizing the importance of preparing South Carolina for increased EV sales and interest, Palmetto Clean Fuels conducted this study to address the following (and related) issues:
An assessment of the current EV infrastructure and policy framework in South Carolina
An analysis of trends and the outlook for the future
Actions to prepare South Carolina for future EV development
PLUGinSC Plan (PDF)
Signage
Ensure that all EV infrastructure is visible and recognizable by adopting the federal guidelines specified in the Manual on Uniform Traffic Control Devices
General Service Signs
To direct motorists to publicly accessible infrastructure, use the Alternate Electric Vehicle Charging Symbol in combination with directional arrows along highways
Pavement Markings
Outline EV charging spaces with green pavement markings
Parking garages
Label the outside of parking garages with signage indicating on which level EV charging is located
Parking Spaces
Use the Alternate Electric Vehicle Charging Symbol in combination with the "no parking except electric vehicles" regulatory sign. The PLUGinSC logo is an optional addition to parking pavement markings. PCF has created a pavement stencil for local governments, state agencies, utilities, businesses, and other organizations that house EV charging stations to use when marking their EV parking spaces. This stencil is available on loan from PCF as needed. To request this stencil, contact PalmettoCleanFuels@ors.sc.gov.
Infrastructure Development
Efforts should include deployment of infrastructure and standardization of permitting across the state
Strategically install infrastructure at targeted locations:
Rest areas and welcome centers
Shopping centers and malls
Industrial manufacturing and shipping facilities
Airports
Policy Potential
Alternative Fuel Corridors
Advance the deployment of AFVs and necessary infrastructure along designated AFV corridors
South Carolina State Energy Plan
Address top-tier recommendations relating to transportation
Volkswagen Settlement
Allocate 15% of the mitigation funds to EV infrastructure
Outreach and Education
Workplace Charging
Assist employers to establish workplace charging programs
Recognition Program
Create an award program to recognize employers who demonstrate a commitment to advancing EVs
Marketing Campaigns
Develop a social media campaign and dedicated EV web content that builds on Best.Drive.EVer.
Digital content includes:
Website
Web banners
Digital handouts
Eligibility
Any entity is eligible to apply for the PLUGinSC Incentive Program if the following requirements are met:
Participants must be official stakeholders of Palmetto Clean Fuels (PCF) Coalition. Becoming a PCF stakeholder is easy and only requires signing a memorandum of understanding (MOU).
Eligible EV charging station sites must be located within South Carolina, have a fixed location, and be publicly accessible. Level 1, Level 2, and DC Fast Charging stations are eligible. EV charging stations also must be entered in the US Department of Energy's Alternative Fuels Data Center Station Locator found at afdc.energy.gov/stations.
To be considered, an applicant must submit a complete application to the Energy Office.